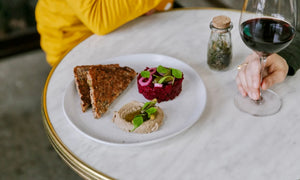 Shipping Information
Time frames and order cut off times:
We dispatch orders from
TUESDAY - THURSDAY
Please place your order online at least 2 days before you'd like it to arrive
Our team needs time to carefully package your order
Once your order is dispatched from our Deli in Christchurch, our courier service is overnight (for non-rural addresses)
Delivery zones
We're able to offer delivery to all major cities and towns across New Zealand. 
Rural customers
We can still offer delivery, but we're not able to guarantee our range of chilled items (plant based meats, cheeses, dips or anything that is normally stored in the fridge) will arrive at the correct temperature.
Rural delivery
can
be overnight, but it is often 1-3 days. For this reason we do advise that if you are living at a rural address, to please be aware of this.
We can still send all other pantry items and non-chilled merchandise.
Service
We use an overnight delivery service with NZ courier post. Items are packaged and sent out from our deli In Christchurch from Monday -Thursday.
We do advise having someone home on the day of delivery, so that your items can be chilled in the fridge as soon as they arrive. 
Our courier targets are: delivery to business addresses by 9:00AM the next working day and residential addresses the next working day, to over 180 major towns and cities.  
Packaging choices

We have carefully considered all aspects of our packaging to ensure there is a balance of effectiveness/performance, eco-friendly elements while also making sure all packaging is vegan and economically viable for us as a company, and you as the customer.
Chilltainer Boxes
Specialised 'cool' thermal packaging and boxes that replace polystyrene with increased strength, less bulk and are recyclable.
Strong, specifically developed corrugated cardboard from 95% paper fibre with a reflective impermeable metallised polyester laminate coating.
Chilltainers do not contain metal or foil
How do Chilltainers work?
The corrugated board provides airflow and a conductive layer of packaging, while the metallised polyester laminate reflects heat away and maintains coolness inside the package for longer.
Chilltainers are totally re-usable for storing items, sending items, picnic trips and keeping drinks cold.
Can be recycled in your yellow recycling bin with other cardboard

Eco-pouches
100% home compostable
plastic free
derived from biopolymers and co-polymer; PBAT (polybutylene adipate terephthalate), Corn-starch and PLA (polylactic acid). None of these pouches contain any conventional plastic whatsoever.
This results in the bags not only decomposing in compost faster than other compostable products on the market, but, creating a stronger bag that won't snap under weight pressures or rip with sharp corners.

Ice Gel Packs

Because we are sending chilled perishables, we are using Ice Gel Packs to keep your goods cold.
Made of super-absorbent polymer, the gel does not release any harmful gases even in landfill. By adding a teaspoon of salt and mixing with the gel you will be able to pour this down your drain. The salt will break up the gel to a more liquid form, this will mean the gel will not clog your drain.
If you need to get rid of any unwanted gel packs, all you have to do is follow these three steps:


Step 1:  Defrost any unwanted gel ice packs and cut open using a pair of scissors.
Step 2:  You can choose 1 of the following 3 options –
Spread gel around your plants to retain water moisture. (Horticulturalists use the same technology to retain and slowly release moisture in the soil)
Add a teaspoon of salt to gel pack and pour gel down the drain.
Empty the gel into your rubbish bin.
Are the gel packs safe for septic systems?

Yes, being non-toxic, our Gel Ice is safe for septic tanks. We recommend you mix a tablespoon of salt with the gel before rinsing down the drain, this will thin the gel pack to a water form.

If you don't want to dispose the gel Ice Packs, we'd suggest reusing them-
Donate to sports club
Donate to fishing club
Empty gel into your garden for better water retention
Filler 

Although wool is the very best insulator to keep items cold longer and is friendly, we have chosen not to use this material as it's obviously not vegan. Listed below are the packaging fillers we will be using to fill space within your parcels:
Wood Wool
For non-chilled orders, these will often be packaged with NZ made wood wool, this can be re-used or added to your compost. It's light and helps keep fragile items safe and sound.


Jumbo bubble wrap

Bubble wrap is used in some of our packaging as a filler material AND more importantly, as an insulator to keep chilled items cold for longer in transit.
We strongly encourage you to re-use it OR recycle it alongside other plastic films, like plastic bags, at designated recycling bins. These bins are typically advertised for plastic bag recycling and can be found at most grocery stores 
Soft Plastics Recycling Scheme